Goth Music may have reached it's peak in the 1980s, several years after David Bowie "invented" it with his seminal 1970 album "The Man Who Sold The World". A new generation of artists took his inspiration and found their voice, creating a golden age of dark dirges that you could actually dance to. Here then are the best 80s Goth songs:
"Tainted Love"- Soft Cell
In 1981, while working in the cloakroom of a club called The Warehouse, Marc Almond heard the DJ play Gloria Jones' obscure 1964 release of "Tainted Love". Almond loved the song and recorded it in one take with his creative partner, as struggling Gloom Pop duo Soft Cell. "Tainted Love" rapidly reached number 1 on the UK singles chart, became best-selling single of 1981 in the UK and worldwide hit.
"I loved the title and the opening line: 'Sometimes I feel I've got to run away.' It summed up how I felt."- Marc Almond
Today the song is a staple of 80s parties and retro clubs. VH1 ranked "Tainted Love" as number 5 on their 100 Greatest One Hit Wonders of the 1980s. In 2006, Rihanna sampled the song for her smash hit, "SOS". Below is the song that started it all:
"So Alive"- Love and Rockets
Who the heck backs a sultry, ethereal Goth song with a ballroom cha cha beat? Love and Rockets does, with no apologies. They made this improbable style mix into a huge dance club and radio hit in 1989. Daniel Ash's low growl contrasts with a female chorus of otherworldly "do do" background chants to create a uniquely irresistible sound.
Even more unlikely, at a time when acts like Paula Abdul, New Kids On The Block and Gloria Estefan were dominating the Pop charts, "So Alive" broke through to become a top 5 smash. Somewhere the spirit of Tito Puente is looking down and smiling.
"Christine"- Siouxsie And The Banshees
On "Christine", Siouxsie And The Banshees explore the fun side of mental illness! The lyrics refer to Chris Costner Sizemore, whose childhood trauma, grief and terror led to her "splitting off" into three distinct personalities. Her battle with dissociative identity disorder (DID) was dramatized in an Academy Award Winning role by Joanne Woodward in "The Three Faces of Eve". Two of Christine's identities, the Strawberry Girl and the Banana Split Lady, are mentioned in the song.
The Banshees are at their best taking dark material and making it irresistibly catchy. A menacing baseline permeates the song while a single snare drum relentlessly pounds like a throbbing migraine. John McGeoch's minimal guitar frenetically scatters across it like a spider on a hot web. Near the end, Siouxsie's specter like voice fades out, disappearing into the ether… or… is it into another persona?
The song was covered by Simple Minds in 2009:
Honorable mention: "Dear Prudence" (Beatles Cover)- Siouxsie And The Banshees
"White Wedding"- Billy Idol
Gothpunk reached its zenith with this dance floor smash from 1982. Leave it to Billy to turn the happiest day of your life into a frightening nightmare of soul crushing bondage. Sounds like someone should have gotten a prenup!
One interpretation surmises the song is actually about a former crack addict who has returned to his life of addiction and can't escape it. The word "white" being used as slang for cocaine.
In 2002, British Pop Rockers Herman's Hermits actually covered the song for the 2002 album When Pigs Fly: Songs You Never Thought You'd Hear
There is nothin' fair in this world

There is nothin' safe in this world

And there's nothin' sure in this world

And there's nothin' pure in this world

Look for something left in this world

Start again
Below Billy, guitarist Stevie Stevens and band rock The Hollywood Bowl in 2017.
"The Killing Moon"- Echo And The Bunnymen
As you might expect, "The Killing Moon" is THE perfect background music for contemplating your own inevitable demise. A foreboding bassline and screeching guitar along with Ian McCullouch's detached crooning are the perfect soundtrack for facing your mortal destiny. Morbid perhaps but The Bunnymen make it sound downright appealing.
According to Wikipedia, the chords of the song were based on David Bowie's "Space Oddity", played backwards.
"When I sing "The Killing Moon", I know there isn't a band in the world who's got a song anywhere near that".- Ian McCulloch 2003
"I would have loved Sinatra to have had a go at The Killing Moon," McCulloch confesses. "One of the great things about the song is that it still surprises me when I sing it live. I think it took me 25 years to realise that not only was it about pre- destiny, it was about everything."- Louder 2017
"Love Song"- The Cure
The kings of ironic "Happy Goth" are in full effect here. But don't be fooled, these recent Rock Hall Of Fame inductees are still sullen and morose underneath those upbeat lyrics. A spooky organ refrain is backed by feverish violin to create a feeling of yearning, perfectly fitting the song's motif.
This Cure masterpiece has been covered by many artists, notably 311 and Adele. Maria Doyle Kennedy's ballad version (below) emphasizes the pathos and longing of the original prose.
"Love Song" peaked at number 2 on the Billboard Hot 100, making it the group's most successful single in the US to date.
"How Soon Is Now?"- The Smiths
Johnny Marr's deep, rumbling, tremolo guitar is punctuated by ear bending pitch changes to simulate the Doppler effect of being passed by a car with a screaming horn on a deserted road. In this bleak landscape, somehow Morrissey makes sheer isolation sound comforting. His cathartic moaning connects to the outsider in all of us, making our loneliness just a little more tolerable.
Sire Records chief Seymour Stein called this tune "the 'Stairway to Heaven' of the Eighties", while Rolling Stone named it one of the 100 Greatest Guitar Songs ever.
"The tremolo pulse that opens 'How Soon Is Now?' is the kind of sound musicians and listeners spend a lifetime chasing after: something never heard before and never successfully replicated since." – Philip Sherburne, Pitchfork, 24 August 2015.
I am the son

And the heir

Of a shyness that is criminally vulgar

I am the son and heir

Of nothing in particular

You shut your mouth

How can you say

I go about things the wrong way?

I am human and I need to be loved

Just like everybody else does
Check out Love Spit Love's faithful cover below.
"She Sells Sanctuary"- The Cult
"She Sells Sanctuary" straddles Metal, Britpop and mainstream "Rawk". Sounding more AC/DC than Duran Duran, The Cult were a throwback to an earlier era. Vocalist Ian Astbury would have fit right in with legendary hard rock bands like Steppenwolf or Deep Purple. It's not a huge surprise that he later became frontman for The Doors. But somehow, In an era dominated by electronic synthesizers, The Cult fit right in along their New Wave contemporaries.
The song's mystical prelude shimmers as a lone echoing guitar creates a desert like mirage. But once the first drumbeat kicks in along with guitarist Billy Duffy's now famously infectious power riff, you're hooked. "Sanctuary" is one of the top 100 most danceable songs of the 80s. The song was recently voted No. 18 in VH1's Indie 100.
"Enjoy The Silence"- Depeche Mode
How do you nicely tell someone to SHUT THE F*CK UP? Easy, just use the old trick of challenging them to a "Silence Contest"! Because sometimes enjoying the illusion of what you imagine is better than reality interrupting when they do open their fat yapper.
"Enjoy The Silence" is synth lovers dream with a repeating chord structure that seems to represent the futility of being trapped in a cog grinding away in the perpetual machine of life. Singer Dave Gahan just wants to hold you in his arms and enjoy a brief respite before the ugly future comes "crashing in". DM's mastery of Pop gloominess is rivaled only by The Cure and possibly The Smiths.
Just missing officially being an 80s song, "Enjoy The Silence" was released in January of 1990. But Martin Gore's ballad version of the song first hit the studio in 1989 before being reworked. The song is a lynchpin of DM's catalogue and a staple of their live shows.
Pitchfork included the song at number 15 on their Top 200 Tracks of the 90s. Tim DiGravina of AllMusic regarded it as one of Depeche Mode's "greatest songs".
Check out Lacuna Coil's rocking cover version below.
"Love Will Tear Us Apart"- Joy Division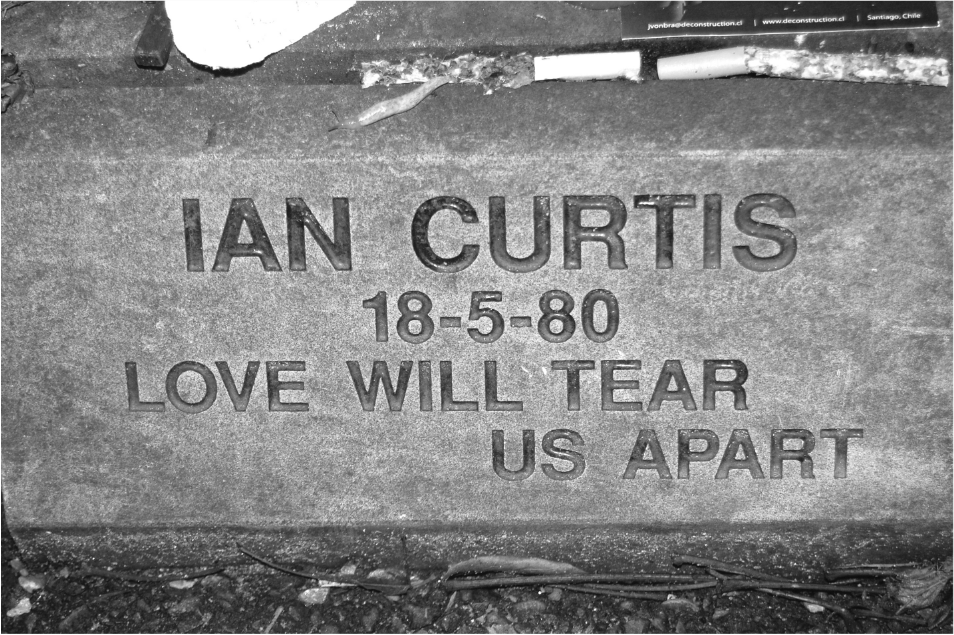 The penultimate Goth song, "Love Will Tear Us Apart" has it all: angst, hopelessness and suffering expressed by Ian Curtis' mournful growl. Set to an irresistibly danceable beat, its the perfect love song for the brokenhearted to gyrate to with tears in their eyes.
The video was shot just three weeks prior to Curtis' death and at the time Joy Division had no idea they were creating a musical milestone. In fact, the legacy of this Manchester band that never toured outside Europe would largely fly under the radar for years to come.
U2's Bono on Ian Curtis:
"Talking to Ian Curtis is … or was a strange experience because he's very warm … he talked—it was like two people inside of him—he talked very light, and he talked very well-mannered, and very polite. But when he got behind the microphone he really surged forth; there was another energy. It seemed like he was just two people and, you know, "Love Will Tear Us Apart", it was like [when] that record was released … it was like, as if, there were the personalities, separate; there they were, torn apart."
Joy Division has been a huge influence on countless Alternative bands including Nirvana, The Killers and Interpol. "Love Will Tear Us Apart" is now recognized as an Alt Rock masterpiece. The song receives more airplay now that in its' heyday. In 2007 NME placed it at number 19 in its list of the 50 Greatest Indie Anthems Ever and In 2015, Pitchfork listed it as number 7 upon their "200 best songs of the 1980s" compilation.
The original mix was a bit muddy but has been cleaned up in recent years. A 2015 Drew Crumbaugh remix fleshes out sonic details, giving the guitars more depth, the vocals more clarity and overall better sound. See: https://soundcloud.com/analog-loyalist/love-will-tear-us-apart-2015
Covers of the song have been created been by Paul Young, Even Vast, Soul Asylum, Gavin Rosedale, Fall Out Boy, and Broken Social Scene.
Following Curtis's suicide, his wife Deborah had the phrase "Love Will Tear Us Apart" inscribed as an epitaph on his headstone.
Below is the one and only official video Joy Division created during its brief career.
Bonus Song #1: "Dance With Me"- Lords Of The New Church
The Lords Of The New Church never got the popularity they deserved but if you like your dirges spooky this is your band. Stiv Bators is looking for a soulmate in all the wrong dark places on this ode to forbidden love. Not sure if he scored but it's hard to resist a guy with heavy tattoos and piercings who simulates hanging himself on stage. Get in line, ladies.
Like an apparition

You don't seem real at all

Like a premonition

Of curses on my soul

The way I want to love you

Well it could be against the law

I've seen you in a thousand minds

You've made the angels fall
"Dance With Me Version II", an alternative version of the song actually rivals the official radio "hit" version (see below). It's more keyboard heavy and a bit more danceable.
Honorable Mention: Check out their cover of Madonna's "Like A Virgin"
Bonus Song #2:"In Shreds"- The Chameleons
The most tragically underrated rock band of the 80s (with the possible exception of The Jam) has many great tracks but "In Shreds" may be the most gripping and compelling of them all. Singer Mark Burgess' impassioned vocals relate a life of emptiness and dread with no hope of escape as a sinister driving guitar brings the point home.
Ignored by you all

I stumble and fall

I suddenly knew

My life meant nothing at all

The whore in my bed

The noise in my head

A hole in my pride

It's coming and there's nowhere to hide
"…their music was imbued with a sense of anxiety and a longing for the security of innocence."- Wikipedia
"I remember at the beginning and they were trying to get us to make videos. I'm going, 'What – you want me to stand up and pretend to play my instrument?' And they're like, 'Yeah, yeah!' And I'm going, 'But I work really hard to get good at playing my instrument, why should I pretend to play it? Why don't you record us playing live? Why should I have to lip-sync and mime and write stupid stories for the videos?'- Mark Burgess Quietus Interview with Julian Marszalek, April 2014
Bonus Song #3: "This Corrosion"- Sisters Of Mercy
The 40-piece background choir's drone of impending doom seems to be lifted directly from "O Fortuna" from the operatic Carmina Burana. While the cantata song laments the inescapable power of fate, The Sisters seem to celebrate the looming, inevitable, corrosion of your soul. If this is what the end sounds like, bring it on.
In an interview with Sounds magazine, Sisters leader Andrew Eldritch stated, "It's about people who sing about the revolution while selling it short, about people who sing about the corrosion of things while they themselves are falling apart. People who miss the point… It's also stupidly over-the-top bombastic, but rightly so."
"I think rock'n'roll should scare your mother."- Andrew Eldritch
I got nothing to say I ain't said before

I bled all I can, I won't bleed no more

I don't need no one to understand

Why the blood run, hold

The hired hand

On heart

Hand of God

Floodland and Driven Apart

Run cold,

Turn

Cold

Burn

Like a healing hand
For more info on 80s music click here: https://djcraig.net/the80s